Regens have spoken! Epoch Zero results are in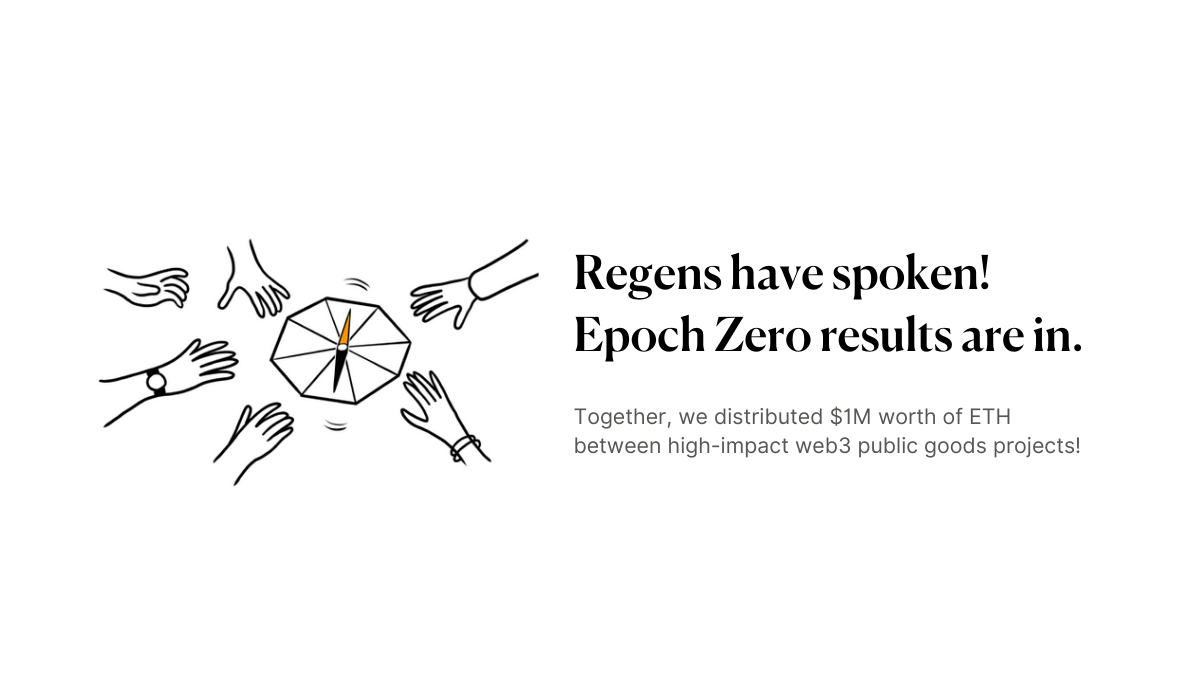 Back in June we were really excited to announce Epoch Zero: a special pre-launch event for Octant, an upcoming platform for experiments in decentralized governance which is funded and developed by Golem Foundation.
Today we're even more stoked to be announcing the results of the Epoch Zero poll. Together, we distributed $1M worth of ETH among 10 high-impact web3 public goods projects with an excellent track record!
How the vote worked
Golem Foundation provided a reward pool for Epoch Zero from its own treasury and invited the Ethereum community to assist in distributing the funds among ten potential beneficiaries through a gated Snapshot poll. These beneficiaries were chosen with the help of the Octant community, based on the importance of their mission and positive impact on the web3 space.
The poll took place from July 21st to July 28th, 2023. To participate, individuals had to acquire an Epoch Zero Token (EZT) from Octant. The EZT is a non-speculative POAP token that could be minted by active members of the early Octant community, participants in Octant's Twitter spaces events, and visitors at Octant's booths during Funding the Commons (July 15-16) and EthCC (July 17-20) in Paris.
The poll implemented a weighted voting system, allowing participants to distribute their voting power across the ten curated public goods projects: Clr.fund, DAO Drops, Drips, EthStaker, Ethereum Cat Herders, Giveth, Gitcoin, Kernel, Protocol Guild, and Supermodular.xyz.
Over 2000 people minted the POAP, and 656 of them voted in the poll. Below, you can see the results of the vote along with information on towards what the Epoch Zero funds will go.
The results of the vote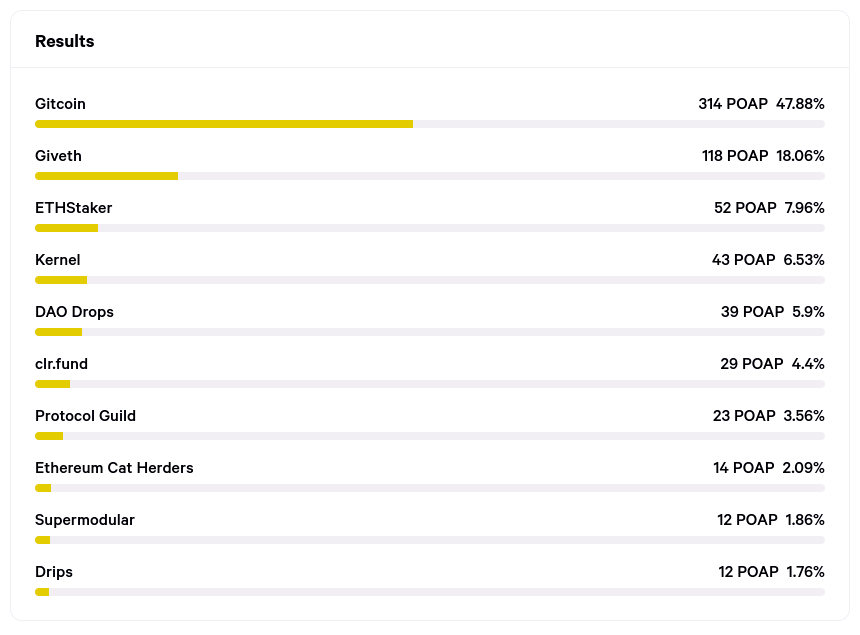 Gitcoin - with 47.88% of the vote receives 256.20 ETH (~478,850 USD) in Epoch Zero donations.
The funds received from Epoch Zero will be split 50/50 between:
the Gitcoin matching pool - these funds are exclusively reserved for Gitcoin Grants and the grantees participating in the program,
the Gitcoin treasury which powers the program and ensures continuous building of the technology that enables it.
Giveth - with 18.06% of the vote receives 96.61 ETH (~180,560 USD) in Epoch Zero donations.
The team will allocate the funds received from Epoch Zero as follows:
30%: Giveth operations,
70%: Quadratic Funding (QF) matching pools, benefiting Giveth recipients.
ETHStaker - with 7.96% of the vote receives 42.60 ETH (~79,630 USD) in Epoch Zero donations.
The Epoch Zero funds will go towards two initiatives:
Funding educational content and incentivizing community members to continue creating content that helps the community as a whole,
Live events.
Kernel - with 6.53% of the vote receives 34.93 ETH (~65,280 USD) in Epoch Zero donations.
The funding will be directed towards enhancing Kernel's educational experience, fostering collaboration, and enabling participants to contribute to building a better web.
DAO Drops - with 5.9% of the vote receives 31.56 ETH (~59,000 USD) in Epoch Zero donations.
DAO Drops plan to use the funds from Epoch Zero for a mix of development and operational costs of running the DAO Drops Round 2 and for the distribution pool itself.
Clr.fund - with 4.4% of the vote receives 23.54 ETH (~44,000 USD) in Epoch Zero donations.
Clr.fund intend to use the funds allocated in Epoch Zero to further improve the deployment of quadratic funding rounds and the onboarding process for round participants and donors.
Protocol Guild - with 3.56% of the vote receives 19.05 ETH (~35,600 USD) in Epoch Zero donations.
Funding from Epoch Zero will directly support the ongoing Protocol Guild mission to find a fair and secure way to fund those who contribute to the core Ethereum protocol, ensuring its ongoing development and success.
Ethereum Cat Herders - with 2.09% of the vote receives 11.16 ETH (~20,860 USD) in Epoch Zero donations.
Funds from Epoch Zero will go towards:
Creating educational content such as PEEPanEIP,
Funding EIP Editors,
Developing & maintaining bots to support EIPs GitHub repository,
Documenting Ethereum's public meeting notes.
Supermodular - with 1.86% of the vote receives 9.97 ETH (~18,640 USD) in Epoch Zero donations.
Supermodular will direct Epoch Zero funds to finance its core mission of cultivating a more regenerative digital frontier, fostering positive-sum outcomes and collaboration within the web3 ecosystem.
Drips - with 1.76% of the vote receives 9.39 ETH (~17,550 USD) in Epoch Zero donations.
The Epoch Zero funds will be allocated to the dependencies of candidate projects in the current Drips round. Drips intends to demonstrate how dependency funding can work with its system, ensuring all funds are allocated to chosen dependencies, fostering new cultural norms in the crypto space.
Thank you to all participants for taking part in the poll and showing support for these important web3 public goods projects. We will soon transfer the funds to the recipients, and you will be able to track the donations on Etherscan.
What's next for Octant?
Epoch Zero is just the beginning for Octant, paving the way for something even more engaging, impactful, and thrilling that lies ahead. Our upcoming web App release will serve as the platform for future Octant distribution rounds, offering exciting new features and possibilities for innovative governance experiments.
This new platform will be funded by Golem Foundation, utilizing the rewards from staking up to 100,000 ETH. We will no longer be issuing access tokens in the form of a POAP. Instead, governance over Octant's funds will be open to anyone who time-locks a minimum of 100 GLM with us for a 90-day epoch.
Octant's GLM-locking mechanism is non-custodial, allowing community members to withdraw their tokens at any time. Those who keep their tokens locked for a whole epoch will be eligible to receive ETH rewards. Once the epoch ends, they will have the option to claim their rewards for themselves or donate part or all of it to eligible public goods causes. Higher lock-ins will result in higher rewards and greater opportunities to support public goods causes. Every donation made to eligible projects will be amplified through Octant's matching rewards system, multiplying its impact.
The process will be iterated every 90 days, allowing for continuous contributions and sustainable funding over longer time frames. Each epoch will also provide the Octant community with an opportunity to run various experiments in novel governance mechanics that can impact the distribution of the funds.
Octant's experimental playground, fueled by real resources, will mirror authentic organizational scenarios. This will enable Golem Foundation and external researchers to accumulate invaluable empirical evidence, which can be utilized across the Web3 space to improve decentralized governance and elevate the whole ecosystem.
Stay in touch with Octant, exciting announcements ahead!
If you would like to join us on this exciting quest, please follow us on Twitter and join our Discord server where we will soon announce Octant's mainnet launch.